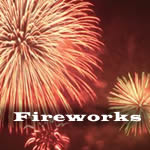 Enoshima Fireworks Festival (江の島納涼大会)
The name is changed to Fujisawa fireworks festival since 2010.
It is annnounced on 14th April,2011 that Fujisawa Fireworks Festival is canceled in 2011.
Date : 27th Nov ,2010 (Saturday)
Time : 6:00 p.m. – 6:45 p.m.
Displays : over 3,000
Location : Katase-Nishihama
In case of stormy weather, the festival is held on 28th.
Access
5 min walk from KataseEnoshima Sta. (Enoshima Line)
Map / Print