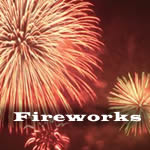 Tokyo bay Fireworks Festival (東京湾大華火祭)
This event is canceled in 2011.
(It's announced by Chuo ward on 22nd March, 2011)
Other scheduled Fireworks fes in Tokyo in 2011
– Katsuhika Fireworks Festival : 26th July ( More info )
– Jingu Gaien fireworks Fireworks Festival : 6th Aug ( More info)
– Sumida River Fireworks Festival : 27th Aug ( More info )
Date :
Time : 7:00 p.m – 8:20 p.m.
Displays : 12,000
Notes : In case of stormy weather, it will be canceled.
Location : Harumi Park
Additional information :
The nearest station to a main stage :
Kachidoki Sta. – Oedo line (12-15 min walk)
The second nearest station :
Tsukishima Sta. (Oedo line or Yurakucho line)- 20 min walk*
Toyosu Sta. (Yurakucho line) – 20 min walk* *When it is crowded, it takes more than 45 min.
It might become difficult to connect a mobile phone!!
Please set the time and a exact meeting spot!!
Access
12 min walk from Kachidoki Sta.
Map / Print