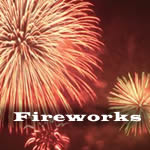 Sukagawa Fireworks Festival
第32回 須賀川市釈迦堂川全国花火大会
Schedule : 21st Aug, 2010
Time : 7:00 p.m. – 8:30 p.m.
Displays : 10,000
Location : The Sports field at the Confluence point in Shaka-dou river and Abukuma river
Notes : It will be held even if it rains. But if it's stormy weather, it will be canceled.
Access
10 min walk from Sukagawa Sta.
Map / Print