Atsuta jingu (熱田神宮) was founded about 1,900 years ago . This is the Owari province(Nagoya) 's most important shrine and is the second-most venerable shrine in Japan. (The top is Ise shrine). The object of worship is Amenomurakumo sword also called Kusanagi sword , which is one of the three sacred treasures, owned by Yamatotakeru(日本武尊).
Enshrined Deity :
Atsuta no ookami (熱田大神)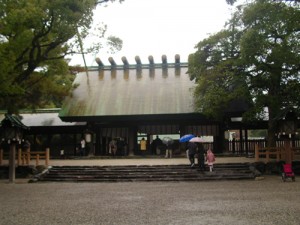 Address
Jingu, Atsutaku, Nagoya, Aichi,
Access
3 min from Jingumae Sta. (Meitetsu) - less 20min from Nagoya Sta.
Map / Print