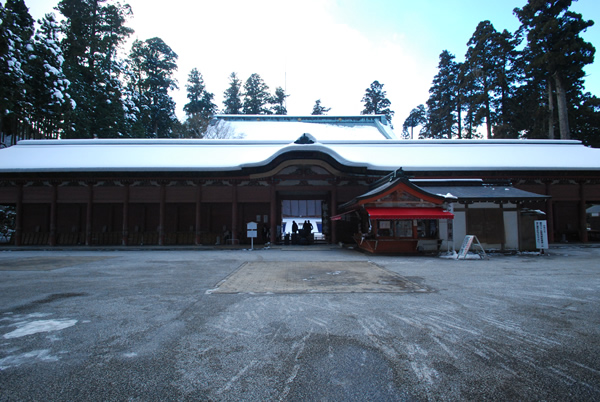 The most important temple – Konpon Chu-do(根本中堂)
Information :
There isn't Enryaku-ji temple on this area. Mt.Hiei itself is Enryaku-ji temple. There are three stupa areas called To-Do(東塔), Sai-to(西塔) and Yokawa(横川) and the most important temple called Konpon Chu-do is located in To-do.
Enryaku-ji having 1200 years of history was designated as the world heritage in 1994.
Here is the headquarter of Tendai Sect of Buddhism but many? founders of sects trained at this temple such as Honen(Jyodo sect), Shinran(Jyodo shinshu), Nichiren(Nichiren sect), Eizai(Rinzai sect) and Dogen(Soto sect).
People visit to To-Do area mainly and go to Sai-do or Yokawa by bus excepting in winter season.
Going to Sai-do on foot takes 20 min and to Yokawa takes 70 min on foot.
There are many route but kotodamaya recommendation is Go there by Keihan Bus (Route4 below)
Time :
To-Do Area
Mar – Nov | 8:30 A.M. – 4:30 P.M.
Dec? |? 9:00 A.M.- 4:00 P.M.
Jan – Feb | 9:00 A.M. – 4:30 P.M.
Sai-do and Yokawa Area
Mar – Nov | 9:00 A.M. – 4:00 P.M.
Dec? |? 9:00 A.M. – 3:30 P.M.
Jan – Feb | 9:30 A.M. – 4:00 P.M.
Access :
[By Cable train from Sakamoto]
Route 1
17 min from JR Kyoto Sta. to Hieizan Sakamoto Sta. by JR Kosei line
+ Ewaka bus toward to Sakamoto Cable
+ Enryaku-ji Sta
Route 2
Keihan Sanjo Sta. to Hamaotsu Sta by Keishin line
+ from Hamaotsu Sta to Sakamoto Sta by Ishizaka line
+ Sakamoto Sta to Sakamoto Cable by Ewaka bus + Enryaku-ji
Route 3 (Be careful that Yase cable is closed during winter season ( Early Dec to The mid of March))
Demachi Yanagai Sta toward to Yase Sta (Eizan line)
+ 5 min on foot from Yase Sta to Yase Cable
+ Yase cable to Hieisancho (The top of Mt.Hiei) + Bus to Enryaku-ji Bus center
Route 4 ( Kotodamaya recommended route )
40 min + α by bus from JR Kyoto Sta or Keihan Sanjo Sta or Demachiyanagi Sta to Enryakuji Bus center? (Go to Hieisancho )
Gallery :
To-do Area

Sai-to Area
Map / Print